Celebrating our 10th birthday on Jubilee Tree Walk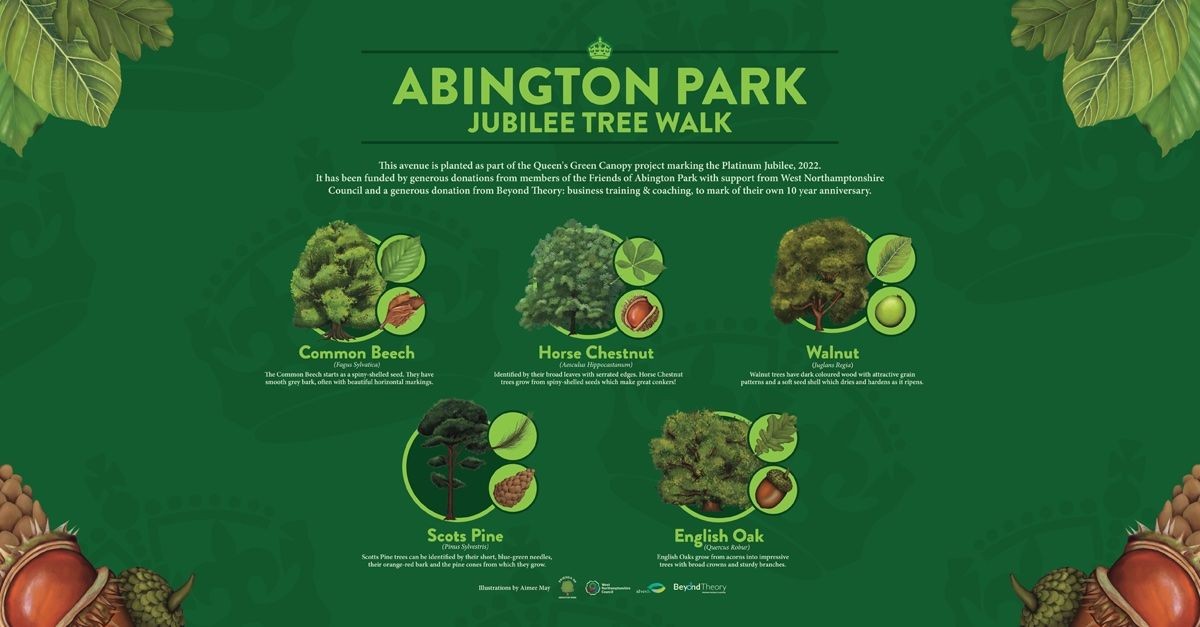 On 11 June 2023 we formerly marked our 10 year anniversary at Abington Park, Northampton. Our Director Paul Beesley cut the ribbon to officially open an avenue of trees that were gifted to the park by Beyond Theory: business training & coaching. This celebratory event, organised by Anne Stevens, secretary of Friends of Abington Park was also attended the Mayor of Northampton, Cllr Stephen Hibbert.
The project began with Friends of Abington Park in February 2022. The trees have been lovingly named Jubilee Tree Walk to mark the Diamond Jubilee of Her Late-Majesty Queen Elizabeth II.
Paul Beesley tells the story, 'We wanted to celebrate our 10th birthday with something special, something that would leave a legacy. I discovered that Friends of Abington Park wanted to plant some trees to help regenerate the park so I stepped in to support'.
So why trees and why Abington Park? Paul adds, "I am from Northampton and still live locally. I have always enjoyed the park throughout my lifetime and I would like others to be able to do the same. Lady Wantage, who gifted the park to the people of Northampton over 100 years ago was clearly a woman with great vision. Wherever you look today, you can see and hear people enjoying themselves. The park always provides a good feeling. Therefore, gifting the trees seemed a natural thing to do.
'I can still vividly remember the joy and relief that Abington Park offered to so many people during the pandemic. The impact on people's wellbeing was, for me, so evident. It remains so today. Whatever the season, whatever the weather, Abington Park offers so much. It really is the jewel in Northampton's crown.
'Planting trees is also a great metaphor for our business at Beyond Theory too. Over the past 10 years we've helped so many people and businesses grow. We've helped people and businesses put down solid roots as well as feed them with the knowledge and skills they need. I also like the variety of trees that we've been able to have planted, reflecting the fabulous diversity of both our local and national communities.
'And, of course, planting trees is great for our planet too. Our ecosystem, just as in business, is very delicate and needs to be cared for'.
Finally, Paul would like to extend his gratitude to the Friends of Abington Park who, as a group of volunteers, work so hard to care and tend to this wonderful space alongside the Park Rangers from the Borough Council. 'The project took a long time to organise but, with the support of idverde and West Northamptonshire Council, the result has been fabulous. The trees will be there for generations to come. How wonderful is that?'.
Note: You can visit Jubilee Tree Walk at any time you wish. It's located just inside Abington Park on Abington Park Crescent towards the junction with Wellingborough Road.
Credits for image: Aimee May and Josh Darko