Employee Engagement Surveys for SMEs
You know what your employees are doing for your business. With our employee engagement surveys we can help you understand what your employees are thinking and feeling about your business.
Employee engagement continues to play a key role in how business leaders and managers think . Employee engagement can be described as the physical and emotional state people have about working for their company or organisation.

Higher employee engagement delivers:
Greater discretionary effort where people go the extra mile.
Increased levels of productivity and customer service.
A place to work where people feel motivated, valued and show a passion for their work, their company and their customers.
Less absence, higher commitment and an atmosphere where people are proud to live the brand and act as company ambassadors.
Creating a plan to increase employee engagement in your business
Building on our experience as an active member of the Engage for Success movement, we will use our expertise to partner with you so you build a strategy to increase the engagement of your employees. We will help you design a plan that will suit your business, your employees and your customers.
Measuring the employee engagement
Our confidential, bespoke and easy to use online surveys will provide you with the insight you need to first benchmark and then provide insight in how to increase the engagement levels in your business. Your survey will give your people the opportunity to say how they feel about your company and what they see as opportunities to get even better.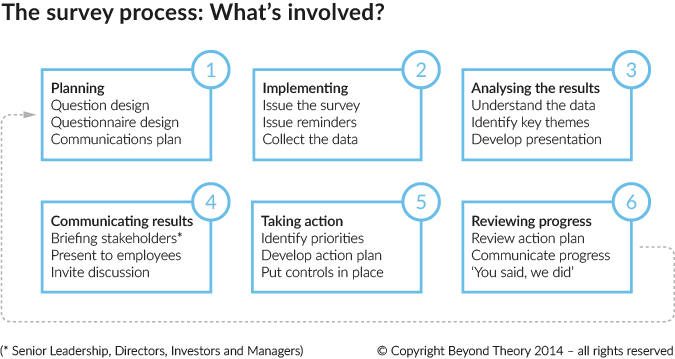 Your survey results
Your quantitative (i.e. data report) survey results will be accessible online via your own password controlled and secure portal. Your report will be interactive, enabling you and your management team to slice and dice your data by questions, departments and responses. Please click here to view an example (you'll need to email us for your password).
Your qualitative (i.e. comments report) will be anonymised and provided in pdf format.
Our methodology
Our expert project management approach will:
Take care of all the survey design and necessary mechanics
Host the survey to ensure integrity and confidentiality
Help you understand what your survey will tell you
Link your survey results to other key business data by using our employee data analysis service
Provide objectivity and help you build a realistic action plan to manage and implement your employee feedback
Our consultative approach will ensure that your survey will fit into your bigger picture to meet your strategic aims. Just like employee engagement, one size doesn't fit all. That's why we'll design and build a survey to match your business needs and fit your budget. You will be in control of the whole process - we'll do all the hard work for you.
Want to know more?
For a complimentary and no obligation consultation, please contact senior consultant Paul Beesley on 01604.212505 or email paul@beyondtheory.co.uk.