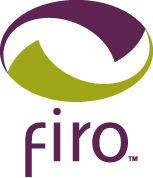 FIRO-B ® - personality profiling
Coaching available face-to-face and online
Discover how to improve your relationships at work with your manager, workers and team members to increase effectiveness and reduce conflict.
Relationships at work are critical to business success. Using the FIRO-B ® psychometrics helps teams and individuals understand how relationships build and what can go wrong. FIRO-B also helps trainers and facilitators understand group dynamics and to point the way to increased group effectiveness.
Contact us for discuss the benefits of using FIRO-B in your business.
FIRO B psychometric is one of our key tools that we use to coach business leaders, individuals and teams. Our senior consultant Paul Beesley has been a qualified FIRO-B practitioner for almost 20 years. Using his knowledge and experience he helps -
People to understand their needs and wants for inclusion, control and openness and how this impacts on their behaviour.
People to understand the needs and wants of others how these can differ from their own.
People to avoid unnecessary conflict in teams.
Business leaders develop their interpersonal skills to influence others to achieve their goals.
Customer service teams build rapport and relationships with customers, resulting in increased sales and enhanced business opportunities.
Trainers and facilitators understand more about group dynamics.
Why not carry out your own FIRO-B profile? It isn't expensive and the rewards can be enormous.
Call us on 01604 212505. We'd love to explore how FIRO-B profiling can help you to optimise your business performance and that of your team.
Everything we do at Beyond Theory is in accordance with the Chartered Institute of Personnel & Development's (CIPD) code of conduct.