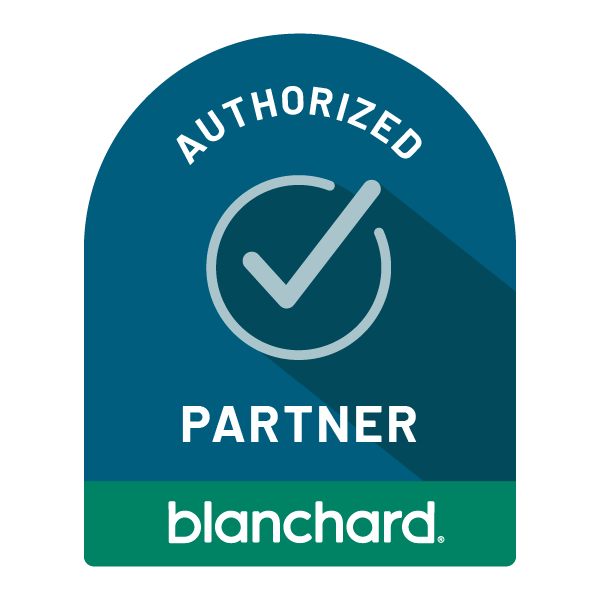 Leadership Behaviours training - available face-to-face and online

We know that when it comes to leadership, one size does not fit all. That's why we include leadership behaviours training in all of our leadership and management training programmes, each designed and delivered to help transform your managers into situational leaders.
Being a situational leader enables employees to perform at their peak. This is because employees respond best to the flexible leadership styles of an engaging manager who is able to lead situationally.
For example, a team member who is new to a task will need more direction than someone who is far more experienced. However, experienced team members will not respond well to micro-management.
Mis-matching leadership styles will be demotivating and disengaging for team members, leading to them to become frustrated, disillusioned and even leave your organisation.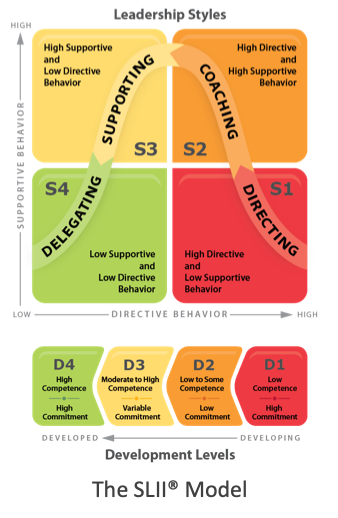 (image reproduced with kind permission of Blanchard®)
Our Leadership Behaviours training
On our leadership behaviours training in interactive and engaging. We use only the very best, market leading training materials. These are supplied by Blanchard, based on the SLII® model.
Our training will help business leaders, managers and team leaders to:

Understand their own leadership strengths and blind spots.
Identity their preferred style of leadership and then assess its effectiveness.
Identify a range of leadership styles for different circumstances, so as to manage their people more effectively.
Increase their effectiveness and communication skills when managing performance by becoming an effective situational leader.
Help trainers and facilitators to improve their skills by matching their training style to the needs of their trainees.
How our Leadership Behaviours training works
Receiving your own personal leadership behaviours profile is not expensive and the rewards can be huge. We ask managers to complete a Leadership Behavioural Analysis questionnaire, supplied Blanchard. We then provide feedback, giving insight to their leadership style flexibility and effectiveness. We also provide that very practical SLII® mobile app, giving you immediate access and support on how to best use the SLII model.
Our leadership behaviours training can be undertaken either in a group or in 1:1 coaching sessions. We adapt our leadership behaviours training to become part of your own bespoke leadership training programme or as a stand-alone course.
The choice is yours.

How is our Leadership Behaviours training delivered?
Based in Northampton, Northamptonshire, UK, we deliver our leadership training throughout the United Kingdom and overseas. It's simple:
You can come to us
We can come to you or
We can do it online.
Again, the choice is yours.

For more information
To find out more about how our leadership training can transform your business request information below, give us a call on 01604 212505 or email hello@beyondtheory.co.uk. We'd love to hear from you.
Everything we do at Beyond Theory is in accordance with the Chartered Institute of Personnel & Development's (CIPD) code of conduct.