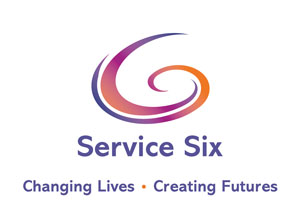 Service Six – our Charity of the Year 2019
We are delighted to announce that Service Six is our Charity of the Year for 2019. Our support will run from January through to December 2019.

Who are Service Six and what do they do?
Service Six are a Wellingborough-based charity who are about changing lives and creating futures. They provide:
Specialised outcome-based professional therapeutic support and
Diversionary and activity services
for thousands of hard-to-reach disadvantaged children, young people, adults and families across Northamptonshire.
Their continued success has seen them grow to provide their services in Buckinghamshire and Leicestershire too.
Why do we support Service Six?
At Beyond Theory we believe that work is a force for good. It provides income, social inclusion and a sense of purpose. We know that quality training and development helps people reach their potential. Our work at Beyond Theory is very aligned to changing lives and creating futures too.
Director and senior consultant Paul Beesley says, 'I was lucky as a child. I came from a home full of love and with a very strong sense of family belonging. I realise that many children do not have the same. Therefore, anything I and my team of associates can do to help those less fortunate must be good for our community'.
What sort of support will be provided by Beyond Theory?
We'll be providing 4 training courses for Service Six free of charge throughout 2019. Each course will be provided at our training facilities in Derngate Mews, Derngate, Northampton. Workbooks and handouts will be provided so the same high quality learning experience will be provided as with all our other training. The topics to be covered are down to chief executive Claudia Slabon and her team to choose. We've already successfully delivered a course to build confidence when presenting to key stakeholders. The learning was massive.
What do Service Six say about our support?
Claudia says, 'Service Six is delighted to enter a Charity of the Year Partnership with Beyond Theory. Paul has been inspired by our cause and experienced it first-hand during his time as Treasurer at Service Six. He knows how our work makes a huge difference in the lives of vulnerable children, young people and their families.
'We are very excited to have this opportunity to unite our teams behind such a worthwhile cause that they can identify with and feel passionate about. To continue working with Beyond Theory will make a difference in our communities. Our partnership with Beyond Theory promises to be fun and motivating for our team too.
'Service Six will support Beyond Theory to fulfil their corporate and social responsibility needs. We look forward to embedding our partnership with Beyond Theory within our organisation culture to deliver mutually beneficial results with a lasting legacy. Together we will be better in changing lives and creating futures. Thank you for your support.'
Learn more
For more information about Service Six please visit: http://www.servicesix.co.uk/about-us.html