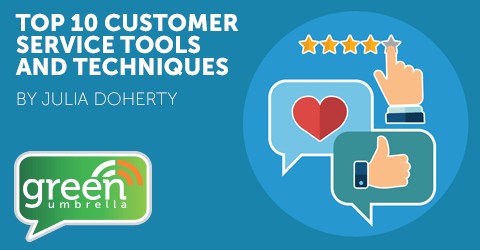 Top 10 Customer Service Tools and Techniques
Guest Blog by Julia Doherty, Green Umbrella
The right service techniques can have a huge impact on your customer service and ultimately the happiness of your clients.  In this post, I will share with you twelve tools and techniques that we have found valuable to provide an excellent customer service for our clients.
#1 – Explanation Techniques
I must give credit where credit is due, and give thanks to Paul Beesley for his advice on this one.  You know your products and your services inside out and upside down, but do your customers?  We now offer two forms of "explanation techniques" for new clients:-
We provide an infographic of the process of launching a social media management package.  There are many elements to starting an account, and therefore this flow chart works very well with customers.  It makes the process easy to explain.

Email autoresponders – we also now provide a series of emails in video format to make sure that the customer is happy and understands what is happening with their account.  Again, this has been hugely successful for us and is another touch point for the client.
 #2 – An effective online listening strategy
I can not write a blog on customer service techniques without mentioning digital.  The key is to make sure that you have an effective listening strategy.  You need to know when people have mentioned you online (whether this is good or bad news, you need to know about it).  We would highly recommend using a service such as www.mention.net .  Most people will not @mention you or tag your business in a post.  Mention.net works in a similar way to Google Alerts but it is more in depth.  If anyone mentions you or or your business online then you will receive an email with the details. Genius!
#3 – Activate your Twitter Responsive Feature
Did you know that you can activate a feature within Twitter to tell the world that you are available for customer service queries?  The feature is showcased on your Twitter profile and shows the times that you are most responsive.
 #4 – Remembering people's names
Dale Carnegie once said "A person's name is to that person the sweetest and most important sound in any language".  He was right!  I get annoyed when people that I have worked with for a while still call me Julie, when my name is Julia.  It's two different names entirely so how do people get it so wrong?  Making an effort to call people by their right name is essential.   If, like me, you struggle to remember names, then this resource from Forbes will be a good read for you.
 #5 – Implement a live chat facility
It's good practice that not everyone likes to have a phone call, or a face to face meeting.  Some people are more comfortable behind a computer screen, so give them the option to communicate with you in this format.  Not only is it a fabulous customer service technique, but the questions that you get asked online are a great resource for blog content ideas.
#6 – Discussion Forums
Giving your customers and opportunity to ask questions, register a concern or to give your business praise in an open forum creates authenticity.  If you do not want to go to the expense of creating an online forum on your website, then consider a Facebook or LinkedIn Group. 
#7 - Facebook Chat Bot
Have you activated your Facebook chat bot yet?  This is a relatively new feature for Facebook business pages.  As visitors land on you Facebook page they will be greeted with an instant chat box where they can message you directly.  It's an excellent service.  (Activate this in your settings area of your page).  If you wanted to go one step further then I would recommend looking at ManyChat – this system integrates with your Facebook page and will create instant chats for those who type certain keywords within a comment on your posts.  You can also broadcast messages through Facebook messenger using ManyChat. 
#8 – Make the most of that special day!
If you are friends with your clients on Facebook, or perhaps connected to your customers on LinkedIn, then the chances are that you have access to their birthday data!  As a process, we connect with clients, and then we record their birthday's in our CRM system.  A week before their birthday we receive a notification to say "It's XXXX's birthday in 5 days time, please send a card".  We purchase our birthday cards in bulk from Amazon and send a hand written birthday card to all of our clients every year. 
#9 – Postcards
If you are accustomed to posting on social media sites, then you would have formed the habit of taking photos everywhere you go.  We all post the photos online, but it usually ends there.  I urge you to go one step further and convert the photos into postcards using an application called Touchnote.  Each Friday we send a postcard in the mail to the clients that we have taken a photo of that week.  Imagine their surprise when they receive a photo of themselves in the post.  Not only is it a nice touch for an existing client, but it certainly helps with making your business memorable for those prospect clients.
#10 – Speak as your customers do
As mentioned in #7, customers communicate in different ways.  If you want to offer the best customer service then I advise to talk to your customers in their language, with the communication channel that works best for them.  A few years ago we forced all clients to use our project management system for all communication.  This was fantastic for us as we had all the information in one place that was accessible immediately, but it was certainly not the best solution for our clients.  They had issues downloading the software, getting their passwords set up and then forgetting to cc the project.  The whole thing was frustrating from both parts.  Nowadays, as part of our on-boarding process we ask the client which method of communication do they prefer.  Some like email, phone call, Facebook messenger, LinkedIn, some prefer us to join their Slack or WhatsApp channels.  We find that talking to our customers in the way that they are most comfortable builds rapport quickly. 
Summary
If you make customer service a dynamic element of your business then you will find that you have happy staff and happy clients.  There is nothing more satisfying than helping out your clients.  Remember, a client who receives good customer service will spread the word!
Julia Doherty, Green Umbrella 
Bio:
Author Julia Doherty – Green Umbrella Marketing Ltd
I am a total social media and digital marketing junkie! My focus is on making a difference to SME's and also independent recruitment agencies. Giving them those all important lightbulb moments that will really enhance their business.
---