Ability Profiling Numerical And Verbal Reasoning Testing For Recruitment & Selection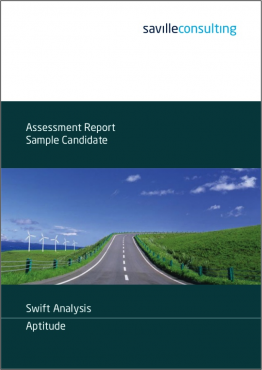 Recruiting and selecting the right people for the right positions is vital to a successful business. The Swift Analysis assessment is published by Saville Consulting and measures critical reasoning. Using this test will help you make the right recruiting decisions.
The Swift Analysis test comprises an 18-minute assessment. It measures critical reasoning through brief verbal, numerical and diagrammatic sub-tests. The test is designed for all high level roles, e.g. directors, managers, professionals, graduates and management trainees.
You and your employees complete the assessment unsupervised and online.
Click here to learn more.
We often combine the Saville Consulting Aptitude tests with the 16 Personality Factors (16PF) assessment. This gives us all-round data, measuring verbal and numerical reasoning alongside personality traits.
Why not carry out your own Swift analysis test? It isn't expensive and the rewards can be enormous.
Call us on 01604 212505. We'd love to explore how Swift Analysis can help you to optimise your business performance and that of your team.
Everything we do at Beyond Theory is in accordance with the Chartered Institute of Personnel & Development's (CIPD) code of conduct. As well as CIPD, senior consultant Paul Beesley is a member of the British Psychological Society.