Building relationships will build your business
Money makes the world go round. Or does it? How about relationships? These days, no one can succeed by themselves - therefore the ability to build sustainable relationships is key for business success.
Take a moment to reflect on the number of business relationships that you have and need to have to succeed:
Customers
Suppliers
Buyers
Employees
Manager
Business partner
Investors
Stakeholders
Networking or referral partners
Mentor
Coach
Competitors
The list could go on. And we haven't even mentioned the relationships that we have with our loved ones. It's a really useful exercise to create a relationship map – literally joining up the dots of who knows who and how strong your relationships are. I had great fun with my A3 paper and coloured pens and became quite insightful.
So what makes a good relationship and what do we mean by good? Are your relationships informal or formal? Who are they with? How effective are they? Strength Deployment Inventory ©In my experience the relationships that work best are the ones that have a common goal, a sense of purpose, mutual respect and shared values. Having a similar philosophy is important and so is being able to understand people's motivations. Values and beliefs tend to drive our behaviours and understanding these is really helpful. So often conflict is caused simply because people misunderstand motives because the behaviour is not what we expect – ie very different from what we'd do ourselves.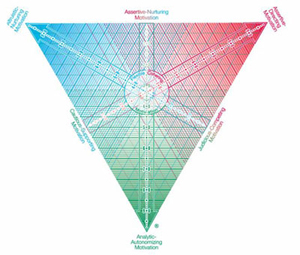 For almost 20 years I have been using the Strength Deployment Inventory (SDI) to help people understand their own values and beliefs which influence their behaviour. Having understood themselves, people can then begin to understand others. We train and coach people to spot the signs in the language and behaviours in others so they can then adapt and modify their own behaviour to match, mirror, pace and then lead conversations to achieve the best possible outcome. I've used these techniques myself to great effect, powerfully strengthening relationships at work.
SDI is a very practical tool – very visual and easy to understand to quickly apply in all business relationship scenarios. In just a couple of hours our course delegates get to grips with the theory and begin to apply to their own world with amazing results. The colour coding makes profiles easy to recognise and remember. SDI is quite unique in pointing out how and why things happen when people don't get their own way as well as when things are in agreement.
Improving customer service, teamwork and leadership skills are all examples where using the SDI intelligently has helped improve business performance. Providing personal insight is critical in moving from being good to becoming great in business and personal life, and building relationships is essential to business and personal success.
Paul Beesley
Senior Consultant
Beyond Theory business training & coaching
Paul is speaking on the imperative of building successful business relationships at NN coNNect evening event at The Cheyne Walk Club, Northampton NN1 5PU on Tuesday evening, 26 February 2014. Please contact Paul or NN coNNect for details.
---