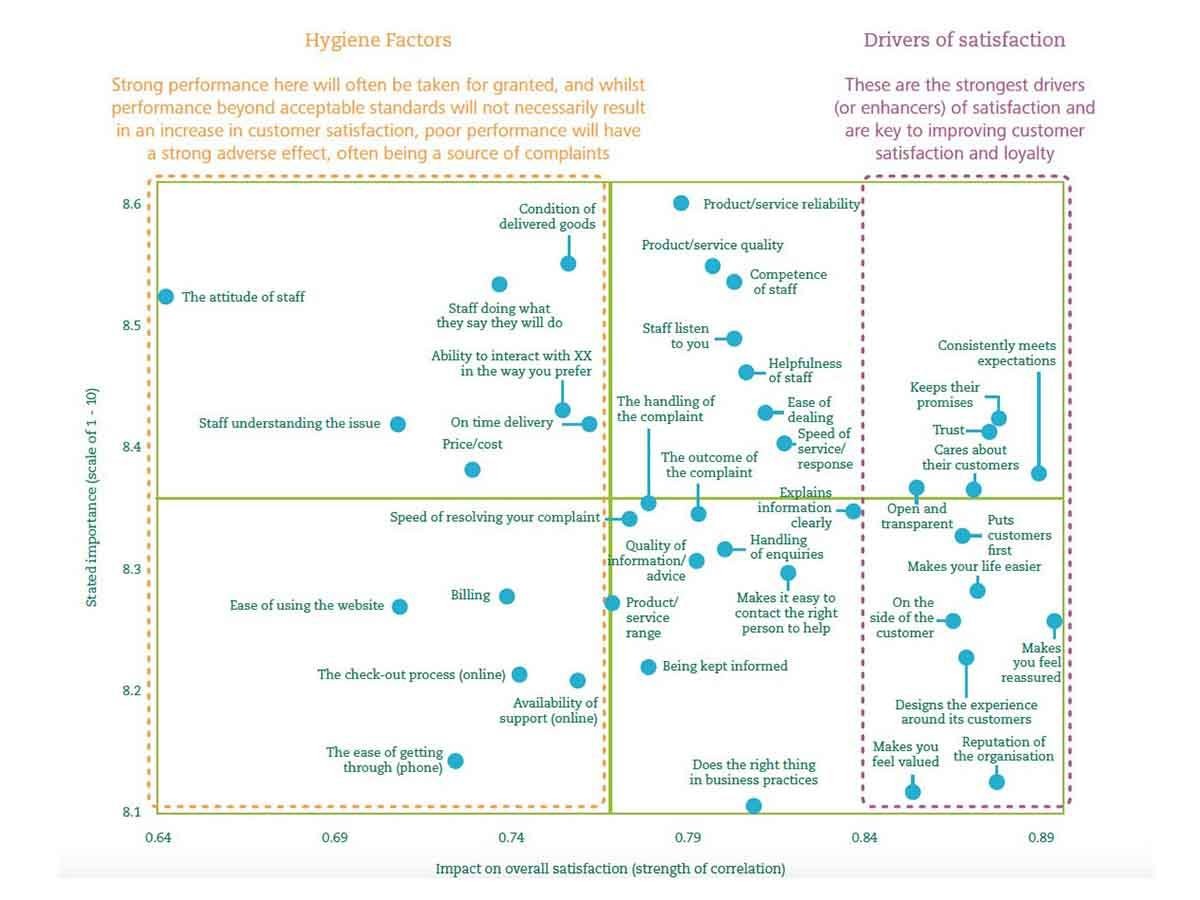 Customer satisfaction – make sure you do the basics brilliantly
It's very tempting to spend lots of time, energy and money on creative ways to give the very best customer experience. However, this all goes to waste if we let our customers down by failing to deliver the basics of customer satisfaction. Unless we do these basics brilliantly our precious resources will be diverted to handling more and more customer complaints.

Last month the Institute of Customer Service published their latest research – the UK Customer Satisfaction Index (UKCSI - January 2019). One of its key findings is how companies and organisations need to pay attention to the 'hygiene factors' of customer service. These are the vital elements of customer experience that never score high on customer satisfaction ratings when they work. However when they are missing or are broken they heavily detract from the overall customer experience.
For example, most customers expect a website that is easy to navigate and want an experience that is easy to get through on the 'phone. In today's world, where most customers are choice rich and time poor, these expectations are a given. However, if your company has a complicated website or has a poor telephone service then customers will quickly become disengaged and develop a negative view of your business.
Take a look at the graphic above (source: UKCSI - January 2019). The highlighted area on the left defines these hygiene factors. The highlighted area on the right shows the strongest drivers of customer satisfaction.

Ask yourself:

How does your company or organisation rate against these factors?
Can you confidently say that your business is delivering these basics brilliantly?

What do your mystery shop reports tell you?
Is your team consistently delivering your defined customer experience to the standards you have set?

Here are some practical actions that you can take to make sure that your business is doing the basics brilliantly:

Map your customer journey to define the many touch points that your customers have as they do business with you. Start at 'research' (i.e. how do your customers find you?) and end at 'recommendation' (how do your customers tell others about your products and services?). Include your processes and non-sales activities (such as account management and invoicing) as these interactions do impact the overall customer experience.
Define or re-define the customer service standards you need to have in place to deliver the very best customer service. Include service standards for online transactions, inbound and outbound telephone calls, face to face meetings and interactions, internal and external written communications (including email) and environment factors such as public areas and internal workspaces.
Train your managers in how to role model and deliver your customer service standards. Behaviour breeds behaviour. Train them how to coach and give feedback to their team members to ensure a consistent customer experience is given.
Train and coach all of your employees in customer service. Develop a philosophy of internal customer service – e.g. 'if you're not serving a customer then you should be serving someone who is'. Everyone has a part to play in the service-profit chain.
Measure, monitor and take action to ensure that the basics are being done brilliantly. This includes your complaints log and customer feedback. Develop key performance indicators (KPIs) to manage how complaints are generated and how they are resolved.
Reward and recognise the right behaviours to reinforce the customer-centric culture you desire. The carrot approach is far better than the stick. However, you cannot afford to ignore dysfunctional behaviour. So don't.
Last but by no means least – make all your managers accountable for the customer service levels their teams provide to their (external and/or internal) customers. Delivering the very best customer experience is a leadership issue.

At Beyond Theory we believe that most people want to do give their best and do a good job. Our experience tells us that complacency is the enemy of excellence. Ask yourself how do you know that your business is doing the basics brilliantly.
Click here if you'd like to learn more about our customer excellence training.
Click here if you like to obtain your own copy of the latest UK Customer Satisfaction Index.
Paul Beesley
Director and Senior Consultant
Beyond Theory

---