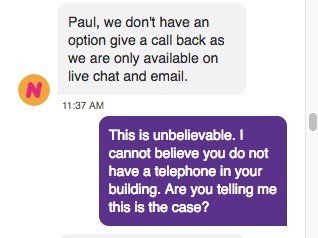 Flexible processes deliver a better customer experience
Customer experience is more than smiling and providing a good level of customer service. Customer experience includes the journey that your customers make from researching your products and services to using them and paying for them. Therefore, delivering customer experience includes processes and well as people.

This isn't a new concept. So why do so many companies and organisations get their customer experience so wrong?
Take a look at the graphic. This happened on 20 October 2018. The issue surrounded an online purchase. When a problem occurred, I was directed to an online live chat facility. Once through the automated messages generated by the process, the live chat agent was polite and did their best to help. However, my experience as a customer using live chat soon became long and was painstaking. Live chat is helpful for quick, one off questions but when dealing with something a little more complex this is clearly inadequate. The customer experience suffers.
Because of the time taken to resolve the query it seemed reasonable to me to ask to be transferred from live chat to telephone. Imagine my reaction when I was told this wouldn't be an option, only live chat or email was possible. Given that dealing with customer issues requires swift action this seemed counter intuitive. Using live chat and email is longwinded. Using the telephone is so much more efficient. However, the live chat agent was unable to depart from the process – regardless of how unhelpful the live chat process was.
In summary this is clearly a case where the customer journey has not been fully thought through. The emotions of dealing with live chat when a telephone call would provide a better customer experience have been ignored. The text shown in the graphic shows the absurdity of the situation.
But every cloud has a silver lining as we can learn from this experience. Here are our top tips:
Review your customer journey. Examine all of the touch-points where your customers interact with your business (from how they find you until how you say farewell).
Consider the emotions that your customers will experience at each step. Examine customer effort i.e. how easy is it for customers to do business with you. Look to remove Ouch! moments and replace them with a more positive experience.
Involve your team in the customer journey mapping process. They will often have ideas that will add value and remove pain.
Don't ignore the small stuff. Think marginal gains – i.e. the 1% issues that make up the bigger picture.
Empower your teams to go outside your designed process if this genuinely helps deliver the best customer experience.
Constantly review your customer experience processes by reviewing customer feedback and listening to the voice of your employees.
Paul Beesley
Director & senior consultant
Beyond Theory: business training & coaching

---