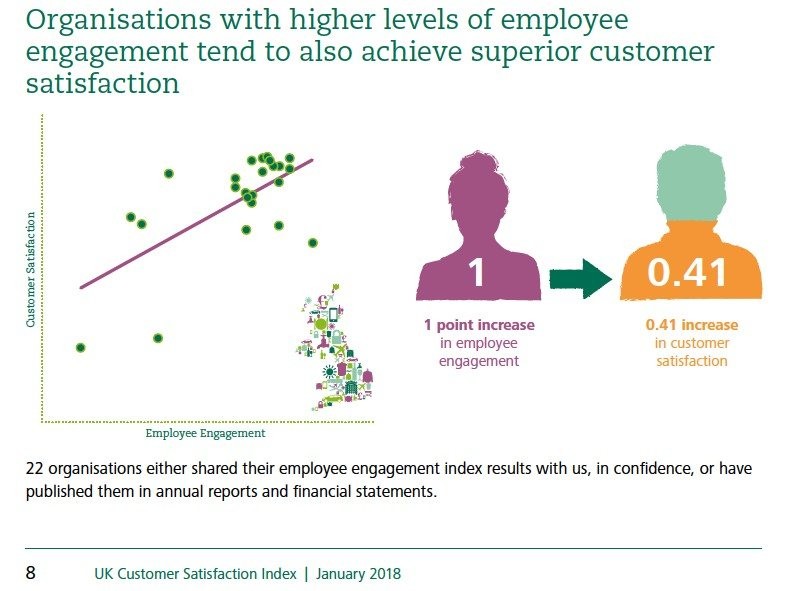 Latest trends in customer satisfaction
Latest Trends in Customer Satisfaction
Last month the latest UK Customer Satisfaction Index (UKCSI) was published by the Institute of Customer Service. The UKCSI is published twice yearly and contains information on the latest trends in customer satisfaction in the United Kingdom. 
So what are the latest trends in delivering customer satisfaction? Here are our take-aways from the research report. See how they apply to your business:
1. The overall trend for increased customer satisfaction has stalled. Some sectors fare better than others but the overall picture is that customer satisfaction levels in the UK are stagnant.
Q: So how is your business shaping up when it comes to delivering great service? What are your indicators telling you?


2. How complaints are handled and the use of telephone contact continue to be factors that separate the best from the rest. However, openness, trust and transparency now also feature as key differentiators.
Q: How are your customer complaint processes working? What are you doing to build trust in your brand?

3. Consistently achieving high levels of customer satisfaction is now clearly linked to better turnover growth, profitability and employee productivity. The case for employee engagement is well made (see graphic) – organisations with higher levels of employee engagement tend to also achieve superior customer satisfaction.
Q: How are you measuring and improving the levels of employee engagement in your business?

4. High levels of customer satisfaction are linked to higher levels of reputation, trust and recommendation. No surprises here. Customer loyalty is critical given the time, energy and money it takes to attract and win new customers.
Q: What are you doing to retain your customers that mean so much to your business?

5. Despite many people feeling the economic pinch, the levels of customers that are willing to pay more for superior customer service remains constant. As margins become tighter, delivering great customer service offers a real opportunity to provide premium products and services at premium prices. However, be aware that as prices increase the level of customer expectation increases too.
Q: Is it time for you to review your pricing strategy and where you place your business in the marketplace?


Please let me know if you'd like a copy of the latest UKCSI. I'd be happy to forward it to you. Contact me if you'd like to talk through the report in more detail and how it relates to your business. I'd love to hear from you.


Paul Beesley
Director and Senior Consultant, Beyond Theory
(Graphic used in this article is from the UKCSI published by Institute of Customer Service in January 2018)
---