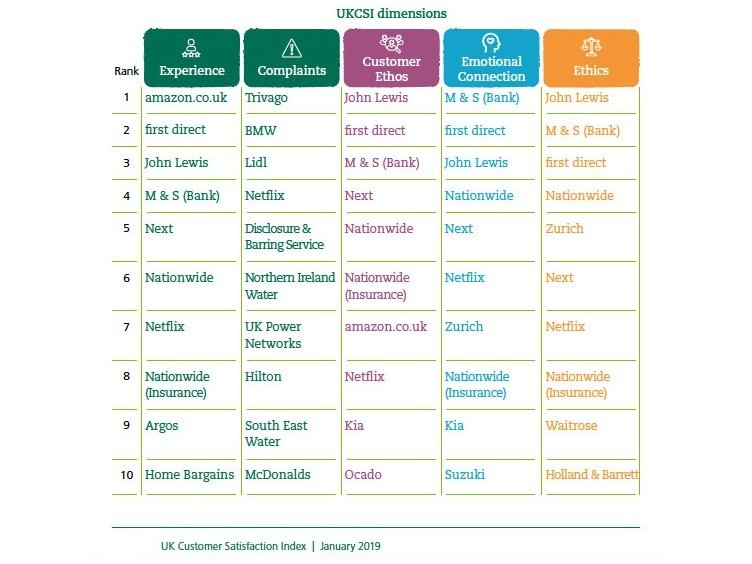 What drives customer satisfaction?
The Institute of Customer Service have just published their latest UK Customer Satisfaction Index (UKCSI). Better than ever, they've now highlighted the key dimensions that drive customer satisfaction: customer experience, complaint handling, customer ethos, emotional connection and ethics.
The UKCSI provides league tables on how companies and organisations fair when providing customer satisfaction. So how would your company fair when it comes to delivering the best customer service?
Here are our top tips:
Customer experience. Make sure that you map your customer journey. This will be the all the touch points where your customers interact with your business. Invite your team members and your customers to challenge your thinking and make the necessary changes to make it as effortless as possible for your customers to do business with you.
Handling complaints. Reduce the risk of things going wrong by making every effort to get things right first time. Of course, things will not always go to plan. In these situations, make sure that you and your team make every effort to turn each ouch! moment into a wow! Recovering situations quickly and decisively is key.
Customer ethos. Ask yourself - How does your philosophy stack up with doing the right thing for your customer? How seriously is delivering the very best customer satisfaction taken in your organisation? Delivering the very best needs to be owned by the very top of your company so make sure your leadership team takes accountability for this.
Emotional connection. We all know that emotions often overcome logic when it comes to making decisions to buy a product or service. Very often it comes down to how a customer is treated – after all, people buy people. Ensure that your customer service levels appeal to the emotional as well as the rational. Whatever business you're in, encourage your team to be passionate about what they do for your customers.
Ethical behaviour. In 2019 customers are choice rich and time poor. Ethical values are playing an increasing role in how customers are choosing their suppliers of products and services. Pay attention to what customers are now looking for in terms of how you treat our planet and the people within it. This includes treating your team well, paying your taxes and being seen to be fair and transparent.
It is clear that our world is changing. To remain successful in business the way that we treat our customers needs to change too. Make sure that your business remains customer focused, is led by a team who understands what drives customer satisfaction and is resourced by a team of people who are engaged and trained to deliver what your customers are looking for and quite rightly deserve.


Paul Beesley
Director and senior consultant, Beyond Theory
(Click here for details of our customer excellence training)
---