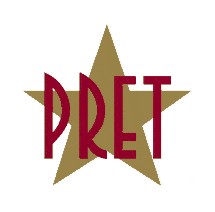 When employee engagement delivers great customer service
It's central London. It's 9.05 am on a Tuesday, October morning. It's busy. I have arrived at Victoria station via the Tube. My meeting starts at 10.00 am. 
Amazingly for me I have time to kill and I need a coffee. I want to tune in to my emails and be available to take the call that I'm expecting.
I walk past at least eight cafés and coffee points. My destination is Pret A Manger. I've been there before. I know that he coffee is good and the service is fast.
I arrive at Pret A Manger and it's heaving – people almost queuing out the door. I almost abort the idea. But I notice that the queue is moving – and moving fast. Within a couple of minutes I am at the counter and being greeted by a smiling face, wishing me good morning and asking what I would like.
My order is taken. There are six people serving and three people operating the baristas. Everyone is smart and everyone is extremely busy. Everyone looks like they want to be there. The different coloured shirts show who does what, the teams work like clockwork. A multi-lingual team serving multi-lingual customers. Some people might even call this choreography. My coffee is served and is exactly what I expected. The price is too and I am wished a good day.
Despite ordering a coffee to go I decided to stay a while. What I observed was fantastic. The speed at which people were being served is incredible. But the team still had time for manners. They realised what their customers wanted and the speed at which they needed it.
Another member of the team was merchandising, making sure that shelves were stocked and easy to select from. She skillfully manoeuvred around the customers who were phoning, texting and dragging their luggage.
From downstairs, other employees were frequently appearing, restocking the shelves with freshly made baguettes and croissants. The concept of teamwork was being displayed.
As I look around the coffee shop the company's vision and purpose statement was visible to see. Those working behind the counter could not miss it.
So what did I learn from this organised chaos, this choreography? Here are my learning points:
Employees need to know what they're doing. They need training to equip them to do the job they are expected to do.
Employees need to be clear on their roles, working in unison. To achieve this, they also need to know the roles of others.
Employees need to have the equipment to use, serviced and in working order. It needs to be ergonomically designed – for the employees and the customers alike.
Employees need to be smart in appearance and smart in attitude – courtesy costs nothing but makes money.
Employees need managers to give direction yet be observant to give support when necessary.
Employees need to see the vision and connect with how their performance impacts the business strategy.
I could go on but I am sure you get the picture. Employee engagement and customer excellence are intrinsically linked. Congratulations to Pret A Manger for making it happen. And it's not just happening in Victoria – I am a loyal customer to Pret A Manger in Central Milton Keynes too.
I'm due back in Victoria next month. Guess where I'll be getting my coffee?
Paul Beesley, senior consultant, Beyond Theory
---