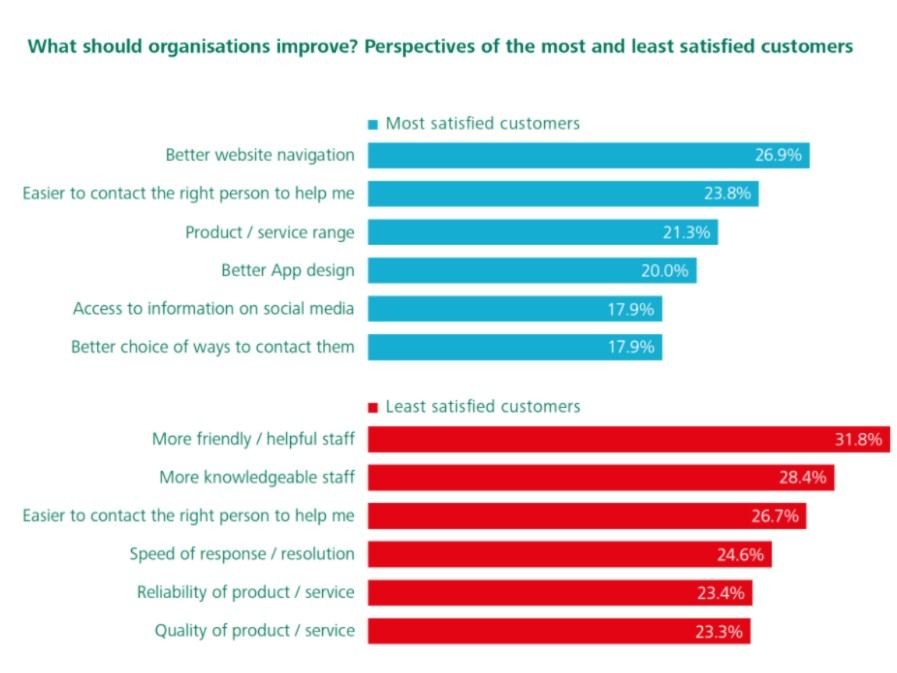 Where and how to improve your customer satisfaction
Whether your customer satisfaction is good, bad or just plain ugly there's always room for improvement. This month's blog will help you decide where to focus your attention. We've also provided some top tips to improve the levels of customer service and customer experience in your business.

Twice a year the Institute of Customer Service publish their UK Customer Satisfaction Index (UKCSI). The latest UKCSI was published just a couple of weeks ago, reporting on trends and other vital statistics based on the 247 companies and organisations involved. It's a great read and we've already updated our training materials to reflect what's reported.
As a training consultancy we focus on customer satisfaction improvement. We're always advising our clients that they cannot afford to stand still. This applies even to those who have reached #1 on customer feedback sites such as Trip Advisor. Indeed, in today's fast-paced world, standing still is actually moving backwards.
Take a look at the graphic above (which is taken form page 38 of the UKCSI). It provides information in terms of what the most satisfied and the least satisfied customers are now looking for:
The most satisfied customers want an enhanced online experience (whether this is by website, mobile app, social media or a mix of channels). Satisfied customers are also looking for a range of products and services that cater for their personal requirements and preferences.
The least stasified customers are looking for more knowledgeable, friendly and helpful staff. These unhappy customers are also looking for companies to provide a quicker response to resolve issues along with improved reliability and higher quality of product.
Here are some questions for you to consider:
How does your business rate when it comes to customer satisfaction?
Are you standing still?
What action are you taking to measure and evaluate customer satisfaction?
Are you happy with your customer being satisfied or would you prefer them to be delighted?
What is your action plan to improve the levels of customer service and customer experience in your business?
What is your business doing to promote and develop customer loyalty?
Here are our top tips to improve the levels of customer service and customer experience in your business:
Recognise that delivering the very best customer experience starts and ends with good leadership.
Focus on customer service at all levels in your business.
Map your customer journey and set standards at each customer touchpoint.
Train your managers and their teams in the attitude, skills and knowledge they need to deliver the very best customer experience.
Create a culture where internal customer service has as much prominence as external customer service and where managers have accountability throughout the supply chain.
Engage your employees and reward them for demonstrating the right behaviours. Don't compromise on your standards for those who don't deliver. Coach and take appropriate action when things fall short.
Constantly ask your teams and your customers for their ideas on how products and processes can be improved to deliver the very best customer experience.
Benchmark and compare your levels of customer service. Include organisations outside of your own business sector and look for ideas that can be adapted and incorporated.
Consider a mystery-shop exercise but make sure you choose your mystery shopper wisely and brief them well.
Last but my no means least make sure the work that you give your employees is meaningful, has purpose, is enjoyable and rewarding. Your team and your customers will feel the difference.
If you'd like a copy of the latest UKCSI then please let me know: paul@beyondtheory.co.uk.
Paul Beesley

Director and Senior Consultant
Beyond Theory

---