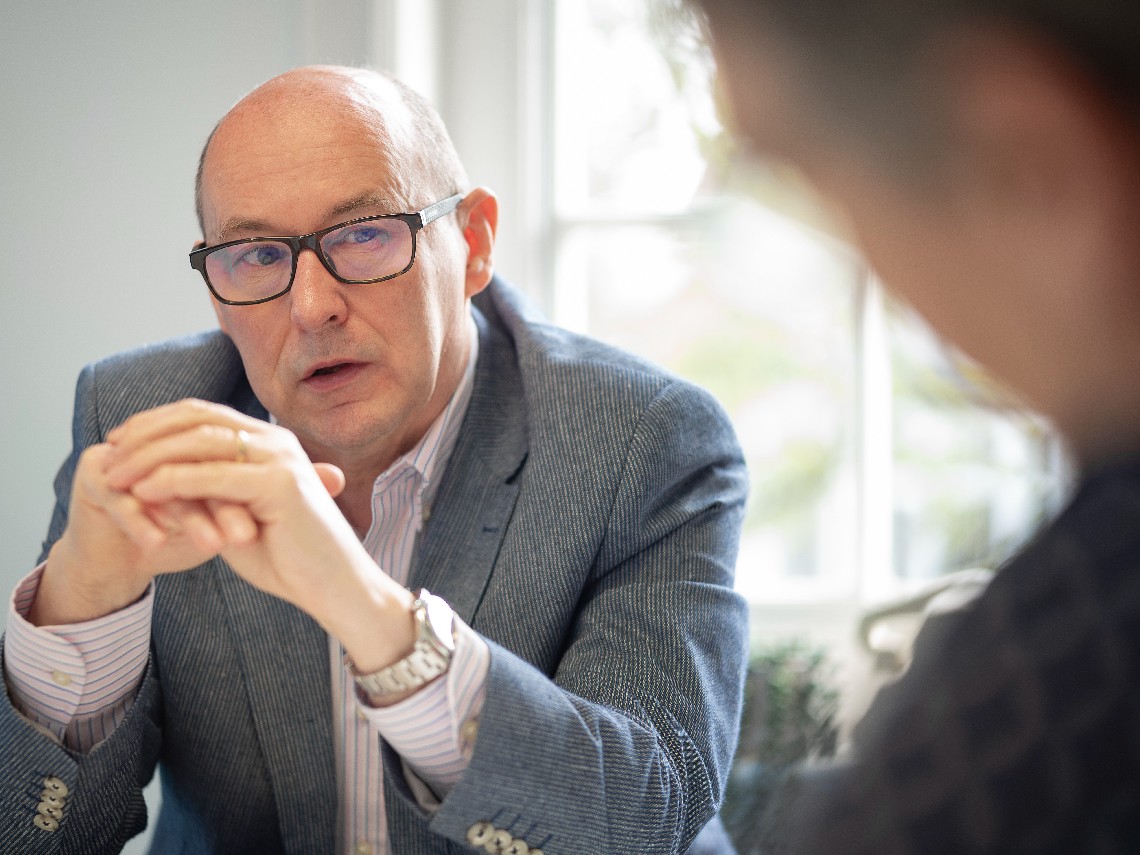 Employee Engagement - Look After Your People And They Will Take Care Of Your Business
Paul Beesley started Beyond Theory in May 2012 after a 'if I don't do it now, I never will' moment, and he hasn't looked back. Ten years on, All Things Business editor Judith Halliday caught up with him to find out why his venture has been so successful, how it's needed to change as the world has changed and how it aims to continue to support businesses to be the best they can.
What was the starting point for your business model?

"I had been a senior manager with Nationwide but I'd always wanted to do something different, something that was entirely aligned with my own beliefs and values. My personal circumstances were right, and it felt like he right thing to do at the time. Having been part of a large organisation, which had a great pedigree of developing people and looking after its workforce, my ambition was to create a company that could give small businesses the help they needed to do what larger companies do and also to work with those larger companies to help them to do what small businesses do so well. To sum it up, I think I wanted to make larger organisations more entrepreneurial and smaller organisations more corporate by getting people to shift their thinking.
"As business owners, when we start our own company, we can set it up how we want it to be. As Beyond Theory has grown and I have brought a number of highly talented associates on board, I have been able to choose those who share the same beliefs and values".
What exactly does the company offer and how?
"For me, there are three areas to focus on. Firstly, employee engagement. Secondly, customer excellence and thirdly, leadership and management.
We provide training in all these areas because we believe that good business is all about customer excellence and you can't give excellent customer service if you don't have high levels of employee engagement. And the biggest driver of engagement is how people are led and managed.
We look at employee engagement through various strategies, surveys and advice. We are members of the Institute of Leadership Management (ILM) which is part of City and Guilds, so our courses deliver fully accredited, formal qualifications.
"From our range of ILM Recognised courses we help businesses choose their learning. We offer 20 modules and put packages together for the client that make sure that we deliver the modules that deliver precisely the areas of training their business needs. That proves to be a very successful recipe.
In terms of the team, into which we have just recruited our seventh associate, we have a wide range of specialisms and experience. That ensures our business training options are comprehensive and that we are able to be flexible".

What do you think were the key early decisions that brought success?
"Undoubtedly the most important was to become part of the ILM because that gave us credibility. Aside from that, I have always been keen to make sure the company is very astute financially. We've always maintained a healthy cashflow, sound financial management with a strong balance sheet. I've always kept an eye on the cost-income ratio so that as we've grown, we've never got into a position where costs are outstripping revenue.
Keeping abreast of technology has always been important, too. For example, we were already fluent on Zoom well before the pandemic hit, which meant we could easily move to online delivery. In that first year of the pandemic, we did 80% of the revenue of the previous year, which had in itself been a record year.
"In the past 12 months we have developed in-house our own learning portal where people can access training materials and gain access to modules so that they can prepare for forthcoming training. People can also record their learning on there too.
What drives your business and the need to help clients achieve more?
"
I believe work is a force for good. Fundamentally, it provides people with wages, so they can make choices and have the things they want or do the things they want to do. But also, it gives them a sense of belonging and, most importantly, a sense of purpose.
"Go back through evolution and human behaviour has always tended towards being part of a group or tribe, to work together and share values, and that stems from a need to belong. It gives people a sense of purpose, and that was why so many people struggled during lockdown and remote working, or why people find periods of unemployment difficult, because they can lack a sense of purpose.
"But work needs to be good work, too. I think I'm on a bit of mission. I would hate to be someone who sits watching TV on a Sunday evening dreading going to work the following day and I think most people are the same. They go to work to do a good job, to put effort in and contribute. How often do you hear people describing themselves according to what they do for a living?
"If they are valued and feel that they belong and share the beliefs of the company, they will be successful".
So, describe your typical client
"There isn't one, we work with companies of all shapes and sizes and don't discriminate against any type of organisation. It's not the size of the company that's important, it's the ambition. If they under- stand the idea that, ultimately, it's not the business that succeeds, it is people that succeed, then they are part of the way there. We help to unlock potential.
"Over the years we have worked with clients way beyond the boundaries of Northamptonshire. We have clients in Africa and the Middle East, the USA and Switzerland, as well as many other places around the world, so that has broadened our scope.
"What is important is that a client can see that while the world presents challenges, they can only control the controllable, and that means getting it right within the business to make it strong enough to withstand those challenges.
"In the past 10 years I've seen businesses cope with the last financial crisis, Brexit, a pandemic and the situation in Ukraine. I don't think we can overcome these events, but business owners and managers have to control what they can. It's important how they recruit and then to make sure that people are feeling good about what they do. When you think of customer service, think of your employees as a customer, too. If they are looked after and they are happy and confident in their work, then they are going to be more productive and, in turn, that will deliver better customer service. This is our recipe for success.
"I recognise that's not easy, because when senior management comes under pressure, it's very easy to overlook the needs of your people and how they are delivering to your customers. So, in order to deliver what we do, we absolutely need the senior leadership on board and aligned to what we are saying because without that it doesn't work. We encourage them to get involved in some of the training or join in workshops so that they can support what we are doing".
What are you doing to mark your tenth anniversary?
"I've always believed in giving something back. Over the past 10 years I have taken up voluntary roles with the Chartered Institute of Personal Development, and I've been treasurer of Service Six, a local charity for disadvantaged children and their families.
"I'm part of St Giles University, a collection of businesses in and around the Derngate area of Northampton that meets to share expertise and business experience and to just generally support one another.
"And I am a keen supporter of the Friends of Abington Park because the park is an important part of my life. It's a wonderful place, but a lot of trees in the park are more than 100 years old and they are coming to the end of their natural lives and so I have donated a significant amount of money to plant more – maybe a new avenue of trees, we're still working on the details. For me, that fits really well with Beyond Theory's beliefs in growth, prosperity and nurture. It's fully aligned with what we do and will create a bit of a legacy to mark our own 10 years of growth and success.
And how do you see the future of your business?
"Firstly, I have to say that I do feel privileged when people want to come and work with me and our team. We work with companies or all shapes and sizes and there's a huge amount of trust placed in us, and I just think that's a huge privilege.
"I don't want us to be the biggest training company in the world, it's about quality. We have to be aware of the pressures of business and how that can lead companies to push the idea they need to get more from less. That can lead to poor decisions and managers need to resist that.
Helping businesses see that making people feel valued is very important. If they are not valued they are not going to do what you want, or even stay with you. Every time we interact with a colleague it's like a bank account. You can't just keep taking out, you have to put something in. If we just keep taking out, we end up with nothing.
"I feel that there is so much division in the world right now and consequently employee engagement, inclusion and wellbeing take on greater significance. For example, imagine an employee is having trouble in their personal life such as experiencing conflict at home or having money worries. In these situations, a manager who can identify and understand these issues compassionately will build better relationships and subsequently higher levels of engagement.
"Looking after people is very important. Employees need to fulfil their side of the bargain, of course they do, but how we manage them and develop them is vital. In the end, employees and customers will feel the difference.
"Our message has been and always will be simple – Look after your people and they will take care of your business".
To find out more about All Things Business magazine please call 01604 267677 or visit https://allthingsbusiness.co.uk/.
Photo credit: Nick Freeman Photography
---