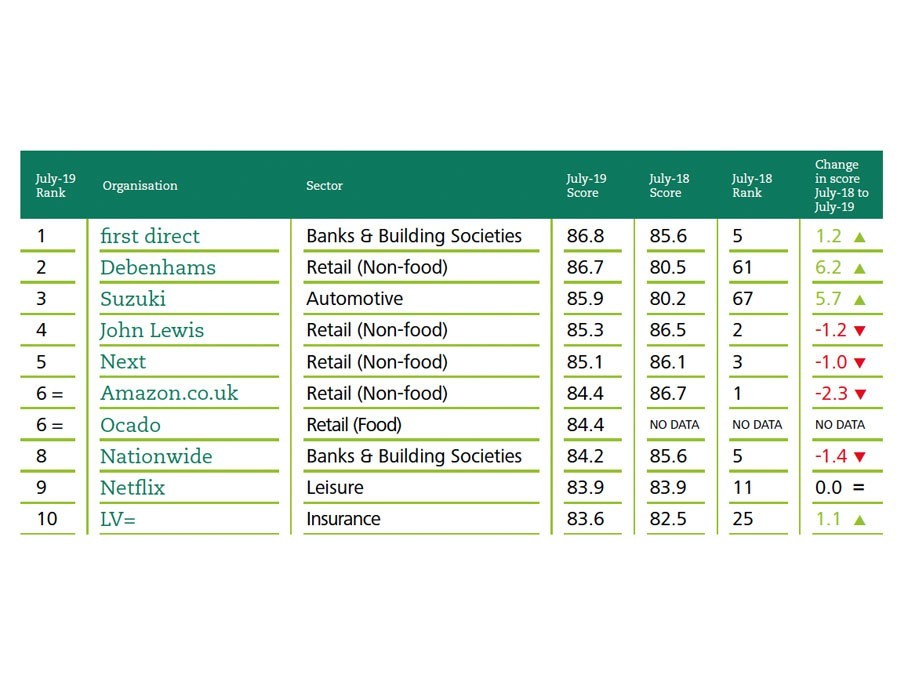 The Five Dimensions of Customer Satisfaction
Every six months the Institute of Customer Service publishes its research on the state of customer satisfaction in the UK. Known as the UK Customer Satisfaction Index (UKCSI), the report provides insights in to how customers perceive customer satisfaction and guidance on how organisations can improve.
The headline of the latest report (published earlier this month) is that customer satisfaction continues to decline. For us at Beyond Theory, defining the 5 key factors (known as dimensions) is our most significant take-away as this offers information on how to improve customer satisfaction. Delivering the very best is the only way to achieve long term, sustainable business success.
Prior to this year the UKCSI score focused on customer experience. Since January the UKCSI has been broadened to include 5 dimensions that have been identified by the Institute of Customer Service. Organisations are now measured on:
Experience – the quality of customers' experiences with organisations.
Complaint handling – how organisations respond and deal with problems and complaints.
Customer ethos – the extent to which customers perceive that organisations genuinely care about customers and build the experience around their customers' needs.
Emotional connection – the extent to which the organisation engenders feelings of trust and reassurance.
Ethics – reputation, openness and transparency and the extent to which an organisation is deemed to "do the right thing".
The UKCSI aggregates the scores in each dimension to provide an overall score. A copy of the latest UKCSI (top 10 organisations) is provided above (source: UKCSI – July 2019).
Our blog in January gave our top tips on what your organisation can do to improve in each of these areas. To help further, let's look in more details at what each dimension covers:

Experience. This dimension includes the range and quality of product and/or service. Reliability is measured too. How customers are kept informed and how easy it is to deal with the company are included. Billing and price/cost are factors measured along with the speed of service and response. Helpfulness and competence of employees are considered as well as the digital experience of using websites. Ease of contact to the right person to help and how information is explained are the final factors that go to measure customer experience.
Complaint handling. This dimension looks at how complaints are handled as well as the outcome of the complaint. Attitudes of employees are measured along with the speed of complaint resolution.
Emotional connection. This dimension simply addresses the important question of trust and reassurance. The measures those all-important feelings a customer has about an organisation – how much it is trusted and how customers are made to feel reassured.
Customer ethos. This dimension measures the flexibility that organisations have to enable customers interact with them in the way they prefer (e.g. multi-channel, omni-channel, online, face-to-face, telephone, email, live chat etc.). Factors such as how much an organisation cares about its customers are also included and how well organisations keep their promises. Last but not least, how well organisations build their customer experience around the needs of their customers is measured.
Ethics. This dimension includes the reputation of the organisation and how open and transparent they are. In summary, the dimension measures how well an organisation does the right thing in business practices, for example looking after its employees, taking care of our planet and honouring its taxes.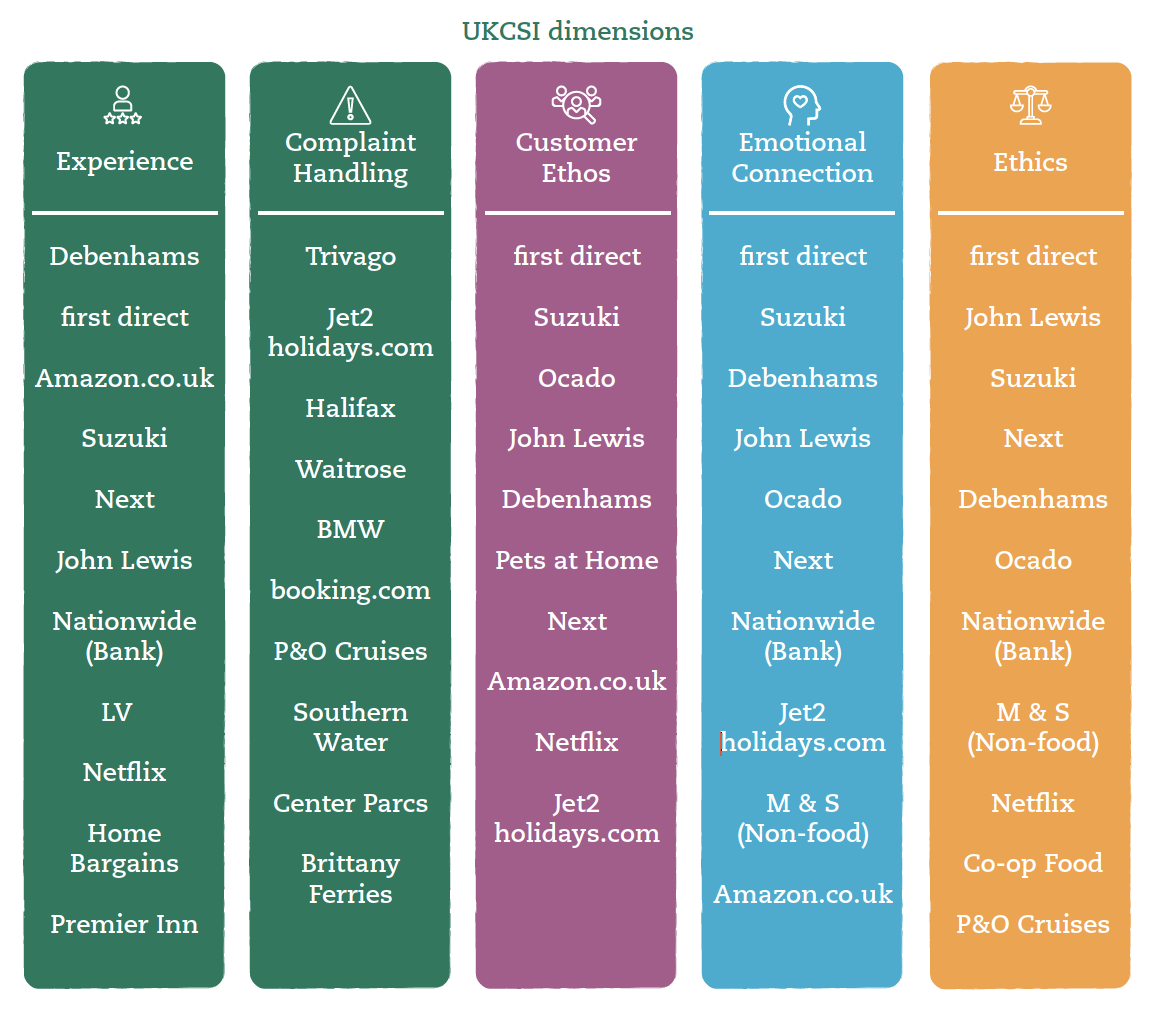 Here's how the top organisations scored in the latest UKCSI.
So, how would your organisation score in each of these dimensions? This is an exercise you can undertake individually or with your leadership or management team.
For example, rating your organisation on a scale of 1 to 10 will help identify any gaps that exist.
You may also wish to undertake a feedback exercise with your own customers to obtain their views:
Quantitative data (e.g. obtained by surveys) will provide useful information and identify trends.
Qualitative data (e.g. obtained by interviews) will also provide information, perhaps even deeper insights, to act upon. We can advise on and help to collect and interpret your data.
The latest UKCSI states that customer satisfaction is on the decline. However, this does not need to be the case for your company or organisation. Customers are choice rich and time poor. Delivering the very best customer satisfaction will help you stand out from the crowd and become your competitive edge.
Paul Beesley
Director and senior consultant, Beyond Theory


---